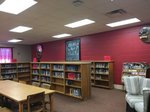 PCHS Remodeled Library
Welcome to the
Pickens County High School
Library Media Center!
Library Overview
The Pickens County High School Media Center is located in the administration building. Students are scheduled to visit the library weekly. Any teacher may schedule a library time as needed for research, class projects, and special lessons/activities. Students are encouraged to visit the library any time (with a pass from their teacher) to select books, work on assignments or projects, or to use the computers/tablets for school-related purposes. Printing services are also available for students and teachers.
Our library has a collection of approximately 12,000 books and other items for student and teacher use. In addition, the library has 10 computers/laptops and a total of 16 iPads available for student use. We also have a smart TV and Promethean ActivPanel which may be used as needed.

Library Hours & Location (Please use the "Forms" link above to view the library schedule)

Monday - Friday 7:30 - 3:30
Pickens County High School
205 4th Ave SE
Reform, AL 35481
(205) 375-2344 (school phone)
(205) 375-8151 (school fax)
Library Policies
Students may check out up to 3 books for a two-wwek time period. Books may be renewed if the book is not currently on hold.

Books on hold must be returned before additional books can be checked out.

Overdue books must be returned before addtional books can be checked out.

Food, drinks, and gum are not allowed without permission.

Students must present a pass from their teacher when visiting the library.

Please place all items back where they belong.
Library Staff
Library Media Specialist - Mrs. April Kyles

I have a Master degree in Library Media from the University of West Alabama and have been the library media specialist at Pickens County High since 2014. Being a part of the PCHS family is very imporant to me and I love working with all of our wonderful students.

As a librarian, I love to help students find books that are of interest to them and that will promote a love of reading. Some of my favorite things to do are reading, swimming, gardening, watching SEC football (espescially Alabama), fishing, traveling and any thing that I can do outside. I have a Welsh terrier named Frosty who also loves to swim and is a lot of fun to be with.
Please feel free to contact me if I can ever be of help at the Pickens County High School library.
Library Vision & Mission
The mission of the Pickens County School System is "Inspiring Ethical Leaders...One Child at a Time," and the vision is "to provide a positive, safe environment that produces respectful, resourceful, responsible leaders with strong moral values." In keeping with this mission and vision, the Pickens County High School Library supports and promotes the development and growth of our 21st century learners in the areas of information literacy, digital literacy, and literary appreciation. We also stirve to provide a safe, welcoming environment for all PCHS students, staff and community members.