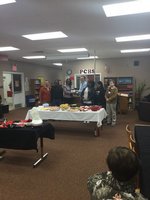 PCHS Band Receives Grant
Rewarded $2500 Grant!
The Pickens County High School Band, led by Mr. Thomas Hargrave, has been awarded a $2500 grant from Alabama Power. This grant has been given to contribute towards purchasing items for this fine arts program. Again, congratulations to you and our band students.