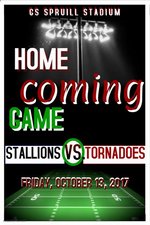 Homecoming Day, October 13, 2017
October 13, 2017
Related Files: Pickens_County_High_School_homecoming_articlefinal.pdf
Pickens County High School have made preparations for the 2017 Homecoming Celebration. We are looking forward to having an AWESOME time this year! The homecoming committee has provided some details about the upcoming event. The details are as follows:
9:00a.m. - Elementary Pep Rally (Reform Elementary)
9:00a.m. - 5:00p.m. - Block Party (PCHS) 1
10:00a.m. - Parade line-up for FLOATS (behind PCHS Gym)
12:00p.m. - Parade line-up for CARS (behind PCHS Gym)
12:30p.m. - Coronation / Special Recognition of Classes 2007, 1997, & 1987 (PCHS Auditorium)
1:45p.m. - Pep Rally (PCHS Gym)
2:50p.m. - Parade (Downtown Reform) 2
3:15 - 4:15p.m. - Alumni Reception only for classes 2007, 1997, 1987 ( FACS Class-Refreshments & PCHS Library - Meet & Greet)
7:00p.m. - Homecoming Game vs South Lamar (GS Spruill Football Field)
Halftime of Game - Presentation of Homecoming Court (GS Spruill Football Field)
Forms: Tailgate Request Form Vendor Request Form
1 For the block party, vendor booth spots are available for $25. More information will be provided.
2 A parade form will be required to participate. The forms are not available at this time, the contact person will be Mr. Lee Richardson or Mr. John Brackett.